Stavros Lygeros: EU Summit: The unknown meeting in Brussels – The whole diplomatic background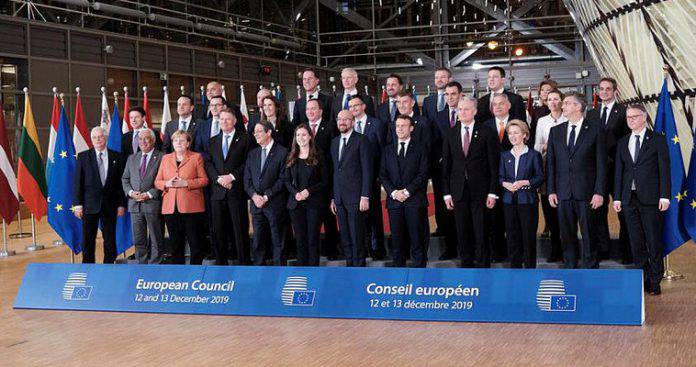 Last Friday, a Greek-French meeting was held in Brussels, on the subject of what the upcoming Summit will decide. The French side, although in favor of taking tough measures against Turkey, did not leave much room for optimism.
According to information, this first negotiation took place between Macron and the President of the European Council Michel. Much, however, will be judged by the final negotiation between the French president and the German chancellor. As a Community source characteristically told us, it is now a matter of prestige for Macron, but also for France, to have some punishment for Turkey, despite Merkel's persistent attempt to soften it.
At this point, it is worth noting that in Athens they are also betting on the rift that exists within the German political system. The Christian Socialists of Bavaria have a much stricter stance against Erdogan, as have several members of the Christian Democrats. The intra-German rift is also reflected in the German media, which are much more critical of Turkey and are pushing for tougher measures.
According to the same information, however, the chancellor is resisting, with Merkel leading this position. She insists that the EU should not take drastic measures that would rupture relations with Ankara and push it away from the West. In this context, she argues that the EU should wait for the Biden government to take over, so that there is coordination between the US and Europe for a common stance against Turkey.
"Sectoral sanctions"
The so-called "sectoral sanctions", which concern sectors of the Turkish economy and could really "hurt" Erdogan, are virtually out of the question, even though Athens is asking for them. Italy and Spain are categorically opposed, which makes it easier for the chancellor in the European context. The reason Rome and Madrid take this stance is the great economic interests they have in Turkey at the level of both the military industry and the banks.
As it emerged from the aforementioned Brussels meeting, "restrictive measures" are likely to be imposed on five Turks personally involved in Oruc Reis' surveys. In other words, what happened with the Turkish violations in the Cypriot EEZ and for which restrictive measures were imposed on two people will be repeated. Needless to say, in Ankara they had scoffed at those "sanctions" and will do the same if the "sanctions" concern another five Turks.
Athens is trying to include the Turkish state oil company TPAO, which is responsible for the illegal exploration and drilling in the restrictive measures. Given that TRAO is also active outside Turkey, the imposition of restrictive measures would have real negative consequences for Ankara. However, it is considered very difficult for Greek diplomacy to achieve its goal. It should be noted that there is also an issue of imposing an embargo on Turkey for equipment used in seismic surveys and drilling, but again Berlin is negative.
Turkey monitoring mechanism
According to reliable information, France will impose the establishment of a mechanism to monitor Turkish behavior, especially in Syria, Libya, and Nagorno-Karabakh for the next six months or even nine months, in order to impose additional measures if it continues its interventions. Paris, in fact, is pushing for sanctions specifically against companies that violate the embargo on equipment for the construction of Turkish drones, as well as those involved in the transportation of jihadists and weapons to Libya.
As is well known, at last August's meeting, EU foreign policy chief (Spaniard) Borrell had orally proposed a list of possible restrictive measures and sanctions against Turkey. At the October Summit, it was decided in Ankara to pose the dilemma of abandoning its aggressive policy and be rewarded with a "positive agenda", or of facing a "negative agenda".
Today, more or less, everyone agrees that Erdogan did not respond and that the moderate diplomatic tone he has adopted in recent days is misleading. There is, however, a division within the EU over the content of the "negative agenda". Borrell is likely to be asked to compile a list of restrictive measures the EU could impose on Turkey. This list should then be considered by the Commission on its implications for Member States and then submitted for approval.
It will take months
It is obvious that this process will take months. It should be noted that some Member States, such as Italy are opposed to ordering Borrell to draw up such a list. Such is the division in the EU that it is indicative that France is skeptical about compiling a list, but for different reasons.
Seeing that there is no climate for severe sanctions, it fears that drawing up a list could turn into a boomerang. While it will include severe sanctions, in practice it will result in rather painless restrictive measures, resulting in the intimidation of Erdogan. This is because in practice it will convince him that despite European rhetoric, he has no fear of severe EU sanctions.
Needless to say, the Greek request for an arms embargo on Turkey runs against the categorical refusal of countries such as Germany, Italy, and Spain. Let me remind you that this will not be the first time that the EU has imposed an arms embargo. It has done so for Iran, and in the context of sanctions, European banks have been barred from financing companies that were directly or indirectly involved in supplying products to Iran.
The Summit and the correlation of forces
As is well known, the imposition of sanctions requires unanimity in the EU. The current picture regarding Turkey shows division. Dendias has personally embarked on a road race, which may not have tempered down the denials, but it has definitely brought results. At the same time, the director of the diplomatic office of the Prime Minister, Ambassador Sourani, is hard at work.
The current picture is that most Member States (more or less) agree that substantial restrictive measures should be imposed on Turkey (Greece, Cyprus, France, Austria, Ireland, Belgium, Luxembourg, the Netherlands, Slovakia, Slovenia, Estonia, Lithuania, and Latvia). However, there are many countries that try to let Turkey off softly, despite acknowledging that it has gone too far (Germany, Spain, Italy, Portugal, Finland, Hungary, Bulgaria, and Malta). Finally, there are some Member States that do not have a position and will probably follow the current (Poland, Croatia, Sweden, Romania, and the Czech Republic).
At this point it is worth noting that the agenda of the forthcoming Summit is heavy, Euro-Turkish relations are one of the issues and not one at the top of the list. If, therefore, the issue of the multiannual budget and the Recovery Fund becomes entangled due to the Hungarian and Polish vetoes, there is a possibility that time will run out and Euro-Turkish relations will therefore be postponed for the next Summit. It would also be a good way to avoid intra-European conflict.