Dimitris Makousis: Turkey is in full swing to becoming energy regulator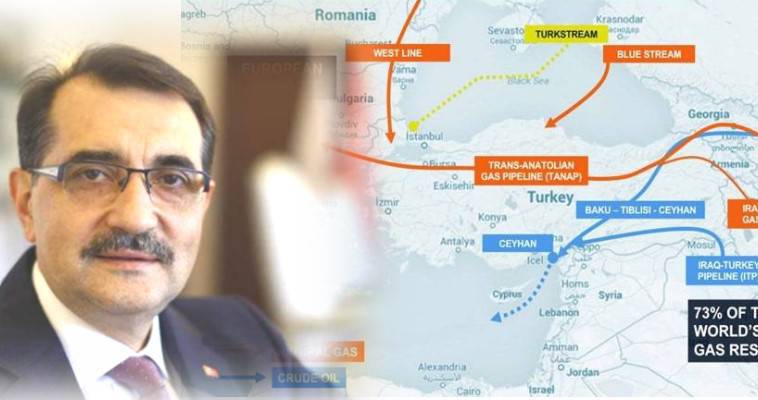 The growth of the Turkish economy in the last decade (average annual rate of 5%), led to a sharply increasing energy demand by 2017. Primary energy consumption in 2018 included 29.2% oil, 28.6% gas and 28% coal. The main suppliers of Turkey in natural gas for 2017 were Russia (51%), Iran (16%) and Azerbaijan (11%) while in crude oil Iran (44%), Iraq (27%), Russia (7%) and Saudi Arabia (7%).
The corresponding import percentages for crude and petroleum products in total were Iran (26%), Russia (18%) and Iraq (16%). Its dependence on natural gas in the same year reached 99.7% and on oil 93.6%. To meet its total energy needs depends on imports at a rate of 75%.
The declining growth rates (1% in 2019) and the increased prices of gas and electricity were reflected in the reduction of energy demand from 2018 onwards. This resulted in a reduction in demand for natural gas (electricity generation) and a drop in imports from 55 in 2017 to 50.3 in 2018 and 45.2 billion cubic meters in 2019 (48% in 2018 and 34% in 2019 from Russia).
Finally, by 2020, Azerbaijan will account for 49.4% of pipeline imports by March, Iran 29.8% and Russia 20.8%. At the same time, the use of coal increased (33% in the four years 2015-2018) with further development of domestic sources, reaching in 2018 to provide 37.3% of gross electricity generation. Russia is the country's second largest supplier of coal (40%), after Colombia.
In 2018, imports of crude oil and petroleum products from Russia amounted to 25.2% and jumped to 46.4% in November 2019, mainly due to the imposition of sanctions on Iran by the US, which caused the total disruption of Iranian exports. Turkey, while initially reacting, was forced to comply due to its multiple open fronts with the West. Although the Turkish economy is in recession, oil imports are constantly increasing and in January 2020 (an increase of 12.7% from 1/2019) came mainly from Iraq (27%), Russia (18.6%) and Kazakhstan (15.4%).
Also, due to the reduction in liquefied natural gas (LNG) prices, Turkey increased its imports and it is estimated that 1/3 of the imported natural gas for 2020 will be LNG, with main suppliers being Algeria, Nigeria, USA (quadrupling its share of LNG in 2019), Egypt and Cameroon. Russia is, according to 2018 data, the third largest exporter of goods to Turkey (7.9%), after Germany (11%) and China (9.5%), while the cost of imports of energy products amounted to 20% of the total in 2019. The high energy dependence on Russia is of great concern to Turkey and that is why it is trying to normalize it in every way.
Position, infrastructure and objectives of energy policy
Its geographical location, close to 70% of proven oil and gas fields, makes Turkey a central transit hub for hydrocarbons from the Middle East, Russia and the Caspian Sea to western markets. About 4 million barrels / day of crude and petroleum products are transported from the Bosphorus-Dardanelles Straits and the Ceyhan oil terminal.
The Southern Gas Corridor, which forms the BTE-TANAP-TAP pipeline network and will transport Azeri gas from the Shah Deniz fields, will have – after the completion of the projects – a capacity of 27 billion cubic meters / year, which will lead to Turkish and European markets, enhancing security of supply between Turkey and the EU.
Figure 1. Oil and gas pipeline network in Turkey (Turkish Energy Market Outlook, Deloitte, 2016 and Energy Industry Report, Presidency of the Republic of Turkey, Investment Office, 2018).
Crude Oil Pipelines (Iraq-Turkey Crude Oil Pipeline, Baku-Tbilisi-Ceyhan Crude Oil Pipeline — BTC), Natural Gas Pipelines (Baku-Tbilisi-Erzurum Natural Gas Pipeline — BTE, Turkey-Greece Interconnector — ITG, Blue Stream Natural Gas Pipeline, Iran – Turkey Natural Gas Pipeline, Trans-Anatolian Natural Gas Pipeline Project — TANAP, TurkStream Natural Gas Pipeline and Russian-Turkey Natural Gas Pipeline — West Line), natural gas storage facilities (TPAQ Silivri, Botas Tuz Golu, Calık Tuz Golu, Toren Tarsus, Botas Marmara Ereglisi and EgeGaz Aliaga), 4 LNG terminals (Marmara Ereglisi, Aliaga-Izmir, Aliaga-Etki and Dortyol-Hatay) with the operation of two floating LNG stations (FSRU), another terminal under construction in Saros Bay and the future nuclear power plant in Akkuyu, comprise the important and constantly expanding energy network of the country.
Due to rising energy demand, the emerging role of gas and high energy dependence on imports, Turkey has set clear targets. The main pillars of its energy policy are to ensure energy supply, mainly through the diversification of sources, suppliers and supply channels, the promotion of research, development and production from domestic sources, the liberalization and creation of a transparent and competitive energy market and the emergence of the country as a critical commercial and gas storage hub in the area.
Figure 2. Active and future hydrocarbon import contracts (Turkish Energy Market Outlook, Deloitte, 2016 and Energy Industry Report, Presidency of the Republic of Turkey, Investment Office, 2018).
The benefits from achieving the last goal will be e.g. energy security, price stabilization through decoupling of pricing from oil prices, transit revenues and financial and material services that will help promote Turkey among the 10 most economically powerful countries – a key goal of Turkish policy -, serving national interests through the attachment to an increasingly important fuel (shale revolution), compensating for the fluid nature of RES and strengthening the development prospects of domestic sources.
Foreign policy and hydrocarbons in the Mediterranean
The action of energy as a geopolitical factor confirms the weak influence of Turkey in the Eastern Mediterranean complex. Thus, it seeks to acquire ownership of part of the deposits located in the Greek-Cypriot EEZ, through the promotion of power in the wider region and the granting of licenses for exploration to the state TPAO.
The appropriation of energy deposits, the control of future and existing infrastructure and hydrocarbon transport pipelines (Medgaz, Trans-Mediterranean, Maghreb-Europe and GreenStream) from North Africa to Europe, through the influence it seeks to exert in Libya, Algeria and Tunisia, will geopolitically upgrade Turkey.
In this way it will further reduce its dependence on Russia, at the same time as it seeks to expand its energy role through agreements with Russian state-owned Gazprom, Lukoil, Rosneft, etc. in Algeria, Libya, Egypt and beyond in Africa. Turkey will thus strengthen its energy and national security while controlling energy flows to Europe, increasing the EU's energy and political dependence on it, while partly maintaining Europe's dependence on Russia.
Its ambition to become a trading hub is reinforced by these developments, while validating its geostrategic aspirations. As Ahmet Davutoglu puts it in his book "Strategic Depth": "Turkey must redefine its international position and re-coordinate its cultural, geographical, economic, political and strategic parameters."
The international position chosen by its political leadership is hegemonic. Turkey wants to dominate and its every move converges on that. It is clear that he does not intend to deviate in the slightest for any cooperation and equal relationship. It is within the precept of "all or nothing". And this, Greece and Cyprus must take seriously.